Back to School at the University of Chicago
I spent Tuesday in Hyde Park on campus at the University of Chicago taking in the landscape and architecture. Ah, to be a student again!
There is quite an array of architecture starting in 1890 with the Gothic quadrangles by Henry Ives Cobb and onward with the addition of buildings by Holabird & Root, Eero Saarinen, Ludwig Mies van der Rohe, Walter Netsch, Ricardo Legoreta, Rafael Viñoly, César Pelli, Helmut Jahn and Tod Williams and Billie Tsien.
I found the campus easy to navigate, with signage to guide you. Very walk able and during the Chicago Biennal there is a free Saturday architecture shuttle tour offered. Details here
Images below were captured on my walkabout - Enjoy!
Note: I only had half a rainy day to spend on campus, so did not get to see all I wanted. A reason to return :)
Main Quadrangle (Henry Ives Cobb, 1892)
Laird Bell Law Quadrangle ( Eero Saarinen & Associates, 1960)
School of Social Service (Ludwig Mies van der Rohe, 1965)
Reva and David Logan Center for the Arts (Tod Williams and Billie Tsien, 2012)
Robie House (Frank Lloyd Wright, 1909)
Joe and Rika Mansueto Library (Murphy/Jahn, 2011)
Max Palevsky Residential Commons (Ricardo Legorreta, 2001)
Joseph Regenstein Library (Skidmore, Owings and Merrill, Walter Netsch, 1970)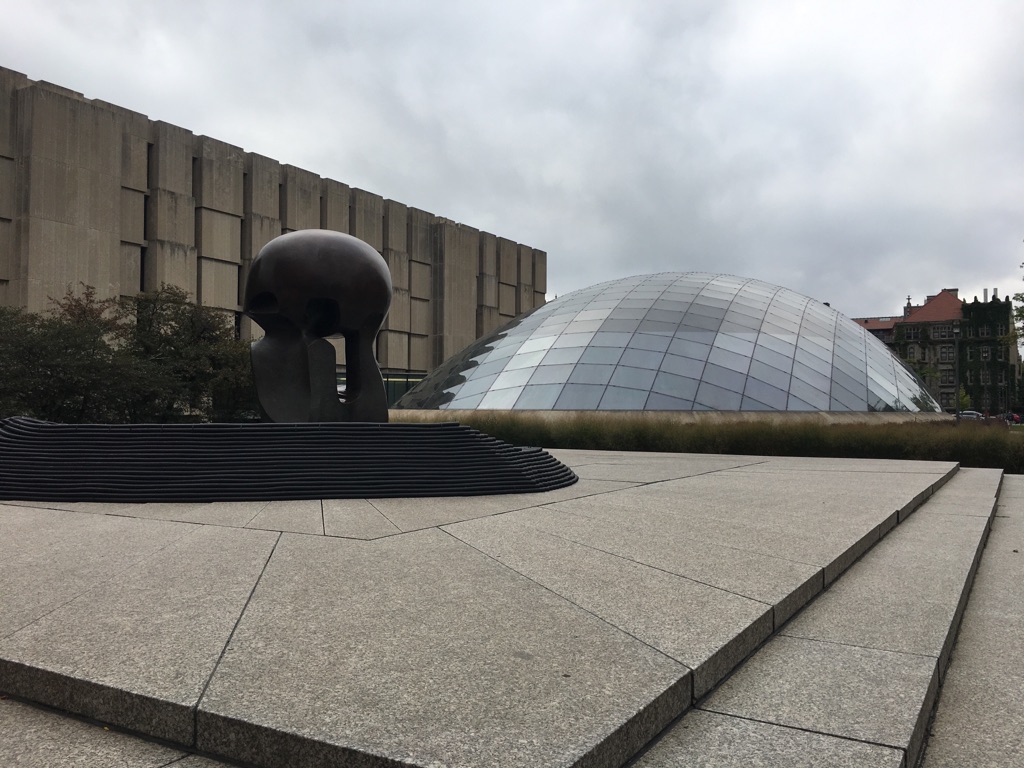 Charles M. Harper Center, University of Chicago Booth School of Business (Rafael Viñoly, 2004)
Smart Museum of Art and Cochrane-Woods Art Center (Edward Larrabee Barnes, 1974)
I have to admit, I only took but a single courtyard photo at the Smart Museum. I did take more inside of a couple artworks and furniture that caught my eye, including some Frank Lloyd Wright pieces from the Robie House. Exterior photos of the Robie House can be viewed in that section of this post.